4th of July Extravaganza!!
Wednesday, July 4 // 6p-9:30p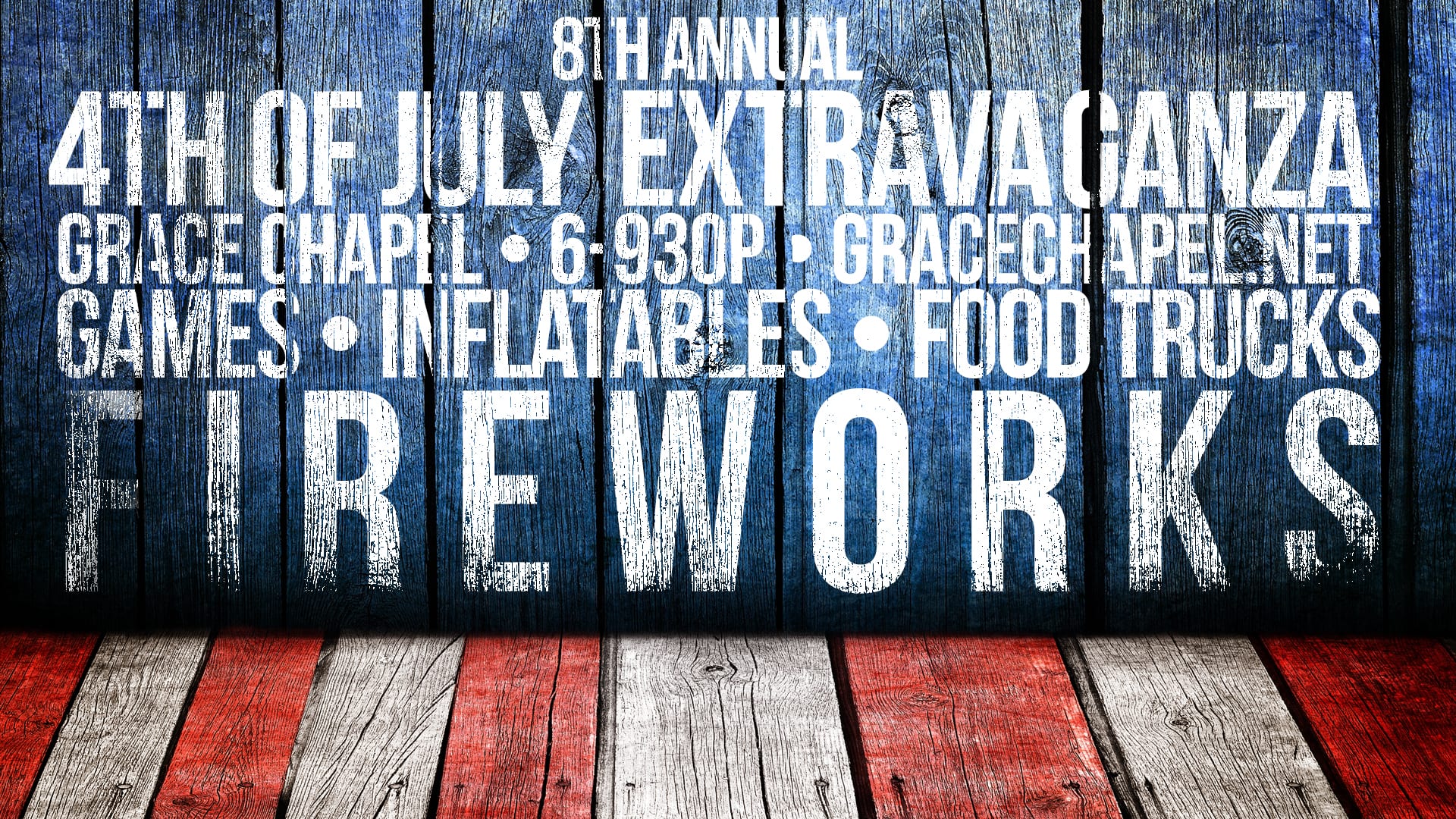 Do you love gathering with friends & family to have a good time? Are you the kind of person who loves to chow down on food that was made in a truck? What about your kids – do they love things like games & inflatables? We've got you covered! You are invited to join us for our Annual 4th of July Extravaganza! It's a safe and family-friendly environment with inflatables for the kids, music, food trucks with food for purchase, and one of the best fireworks shows you will ever see!
Baptisms
Before the festivities kick off, we will be baptizing folks in the river at the back of our property starting at 5p. If you're interested in being baptized, please email donna@gracechapel.net. Whether you are being baptized or just want to come cheer on those who are, it's such a sweet time! At 6p, all of the other activities will begin and we'll top the evening off with our incredible fireworks show starting around 9p.
Volunteers Needed!
Our 4th of July Extravaganza is around the corner and as you can imagine, it takes all hands on deck (plus a few more!) to make that event happen. We're looking for 100 people to sign up to volunteer a shift that night. We don't need you all night, just a small portion of it so you can still enjoy the evening with your family. Can we count you in? Click here to sign up.
4th of July Extravaganza!!

Do you love gathering with friends & family to have a good time? Are you the kind of person who loves to chow down on food that was made in a truck? What about your kids – do they love things like games & inflatables? We've got you covered! You are invited to join us for our Annual 4th of July Extravaganza! It's a safe and family-friendly environment with inflatables for the kids, music, food trucks with food for purchase, and one of the best fireworks shows you will ever see! Baptisms Before the festivities kick off, we will be baptizing folks in the river at the back of our property starting at 5p. If you're interested in being baptized, please email donna@gracechapel.net. Whether you are being baptized or just want to come cheer on those who are, it's such a sweet time! At 6p, all of the other activities will begin and we'll top the evening off with our incredible fireworks show starting around 9p. Volunteers Needed! Our 4th of July Extravaganza is around the corner and as you can imagine, it takes all hands on deck (plus a few more!) to make that event happen. We're looking for 100 people to sign up to volunteer a shift that night. We don't need you all night, just a small portion of it so you can still enjoy the evening with your family. Can we count you in? Click here to sign up.

May 21, 2018

2018-07-04 18:00:00

2018-07-04 21:30:00

180

minutes

Do you love gathering with friends & family to have a good time? Are you the kind of person who loves to chow down on food that was made in a truck? What about your kids – do they love things like games & inflatables? We've got you covered! You are invited to join us for our Annual 4th of July Extravaganza! It's a safe and family-friendly environment with inflatables for the kids, music, food trucks with food for purchase, and one of the best fireworks shows you will ever see! Before the festivities kick off, we will be baptizing folks in the river at the back of our property starting at 5p. If you're interested in being baptized, please email patti@gracechapel.net. Whether you are being baptized or just want to come cheer on those who are, it's such a sweet time! At 6p, all of the other activities will begin and we'll top the evening off with our incredible fireworks show starting around 9p.

Football Field Behind Grace Chapel