Friday, April 19 & Sunday, April 21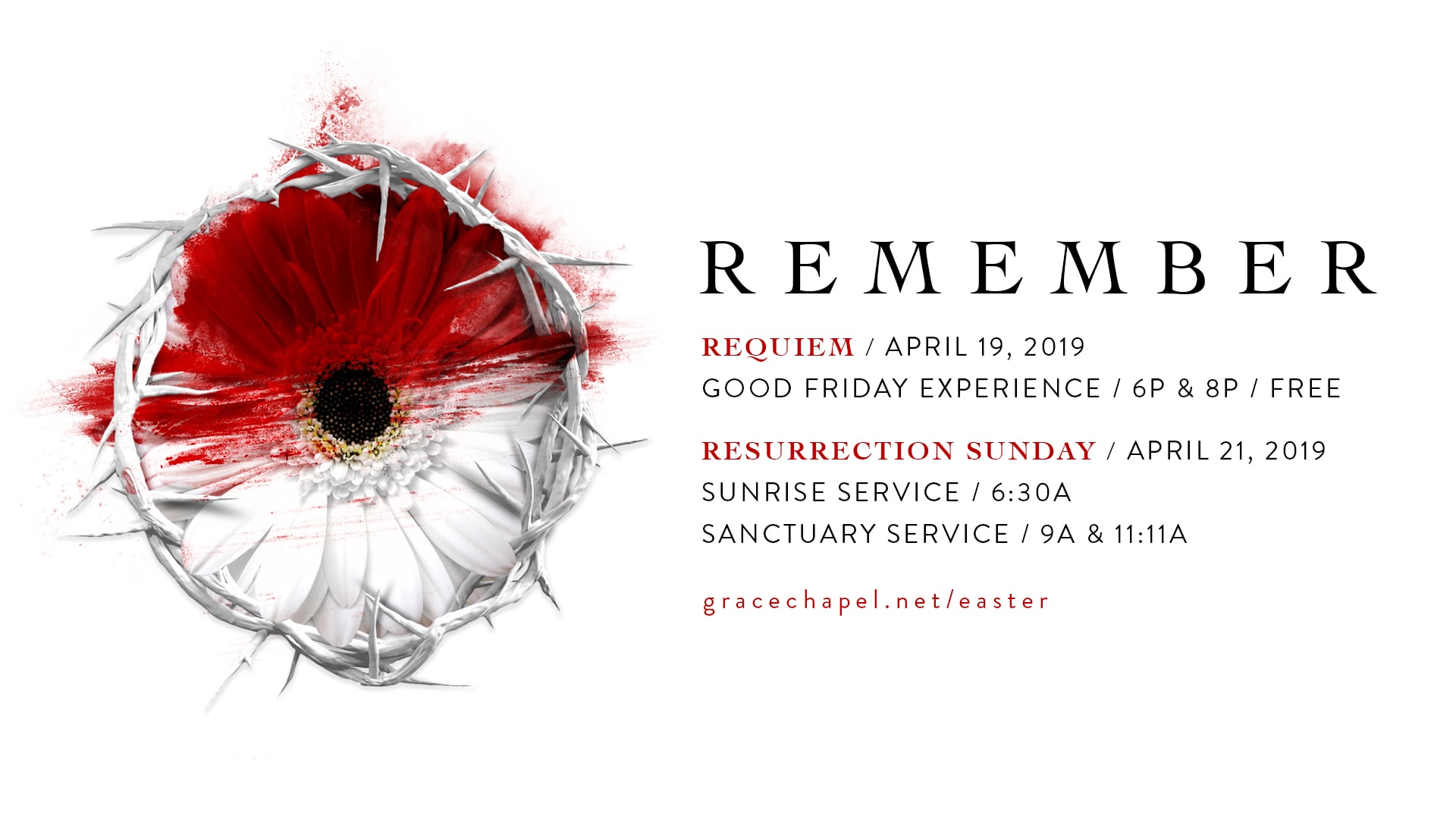 Requiem // A Good Friday Experience
April 19, 2019 // 6p & 8p // FREE
If Jesus had ever had a memorial service, or Requiem, what would that service have been like? Who would dare come? What would those attendees have witnessed, felt, and understood? How would they view the Great In-Between, the seemingly forever stretch of time between Good Friday and Resurrection Sunday?
This Good Friday, we come to remember Jesus. We will humbly offer up a Requiem, while we anticipate the celebration of Resurrection Sunday that is shortly and surely coming.
We invite you to join us for a Good Friday experience that will place us into the passion of that day. As the brutal refrain of Good Friday comes to an end, we look forward to joining in Resurrection's song.
Childcare available for kids birth-5th grade. 
---
Resurrection Sunday
April 21, 2019 // 6:30a, 9a, & 11:11:a
On Sunday morning, the rest of the story unfolds in a heavenly celebration of our Risen King. We have three services that glorious morning. Our sunrise service down by the river at 6:30a is a 60-minute experience, complete with bluegrass worship and biscuits & gravy (because, when you're in the country you have to embrace it). We then have two services in the sanctuary at 9 and 11:11a with our wonderful choir and passionate, Biblical teaching.
We hope you'll make plans to spend your Easter weekend with us at Grace Chapel as we remember the events of Good Friday that paved the way for the glorious conclusion Resurrection Sunday.
Easter Weekend

Requiem // A Good Friday Experience

April 19, 2019 // 6p & 8p // FREE If Jesus had ever had a memorial service, or Requiem, what would that service have been like? Who would dare come? What would those attendees have witnessed, felt, and understood? How would they view the Great In-Between, the seemingly forever stretch of time between Good Friday and Resurrection Sunday? This Good Friday, we come to remember Jesus. We will humbly offer up a Requiem, while we anticipate the celebration of Resurrection Sunday that is shortly and surely coming. We invite you to join us for a Good Friday experience that will place us into the passion of that day. As the brutal refrain of Good Friday comes to an end, we look forward to joining in Resurrection's song. Childcare available for kids birth-5th grade. 

---

Resurrection Sunday

April 21, 2019 // 6:30a, 9a, & 11:11:a On Sunday morning, the rest of the story unfolds in a heavenly celebration of our Risen King. We have three services that glorious morning. Our sunrise service down by the river at 6:30a is a 60-minute experience, complete with bluegrass worship and biscuits & gravy (because, when you're in the country you have to embrace it). We then have two services in the sanctuary at 9 and 11:11a with our wonderful choir and passionate, Biblical teaching. We hope you'll make plans to spend your Easter weekend with us at Grace Chapel as we remember the events of Good Friday that paved the way for the glorious conclusion Resurrection Sunday.

February 21, 2019

04/19/2019 6:00 pm

04/19/2019 7:00 pm

20

Requiem // A Good Friday Experience // 6p

04/19/2019 8:00 pm

04/19/2019 9:00 pm

20

Requiem // A Good Friday Experience // 8p

04/21/2019 6:30 am

04/21/2019 7:30 am

20

Easter // Sunrise Service

04/21/2019 9:00 am

04/21/2019 10:30 am

20

Easter // Sanctuary Service 9a

04/21/2019 11:11 am

04/21/2019 12:45 pm

20

Easter // Sanctuary Service 11:11a