Gethsemane: The Pressing Place
Thursday, March 29 @ 7p & Friday, March 30 @ 6p & 8p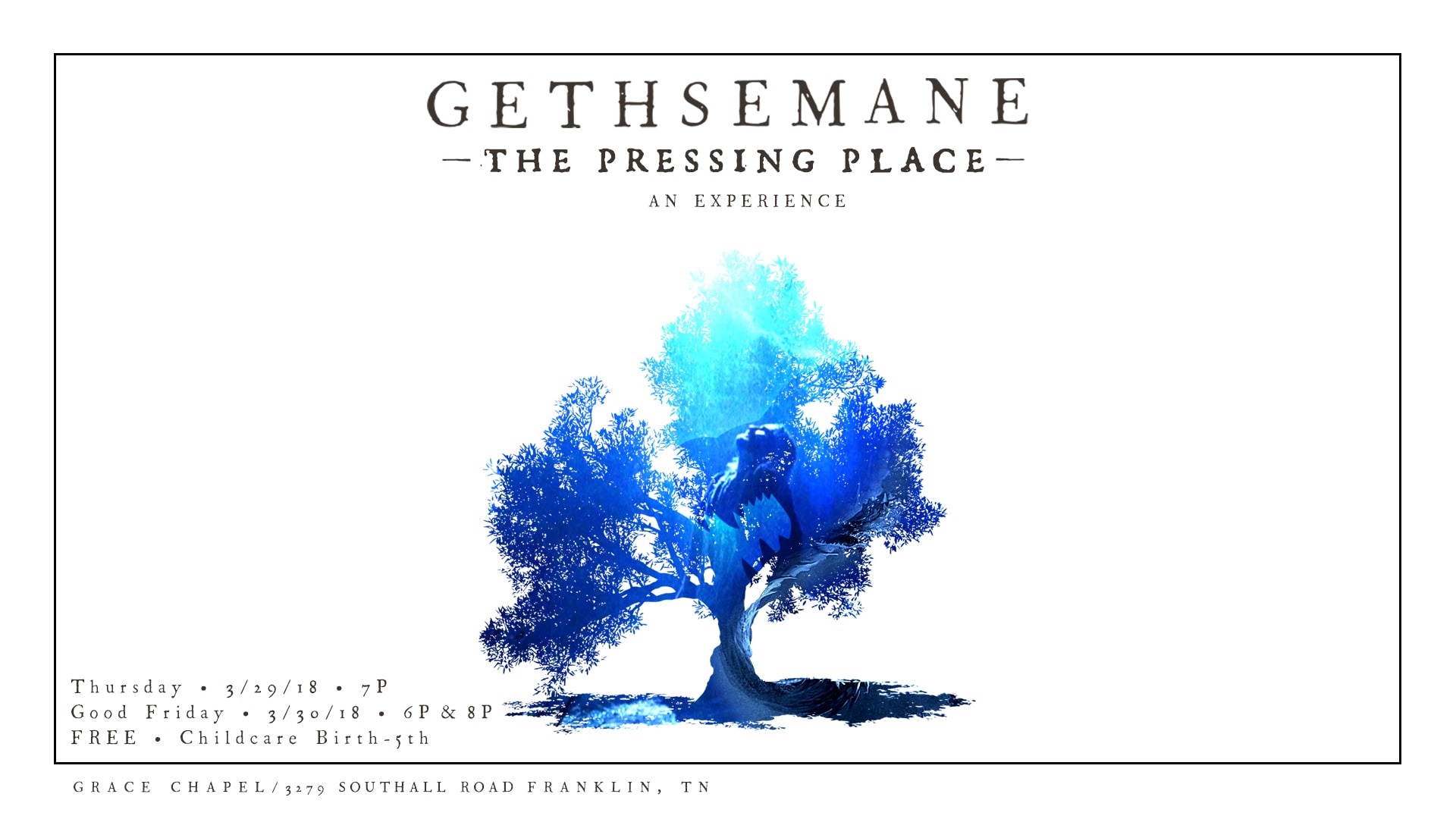 If given to Jesus, the most painful and pressed places in our life can be used to bring something of such beauty – such as it was with Jesus in the garden.
Without the events of Gethsemane, Resurrection Sunday would not have taken place, for this was the place where Jesus said "Yes" to being crushed for the Father's purposes. We are going to the Garden of Gethsemane and we invite you to come experience Good Friday like you never have before.
The production is Thursday, March 29 at 7p and Good Friday, March 30 at 6p & 8p.
Childcare birth-5th grade is available. 
Where this evening ends, Sunday morning will continue, as we celebrate the glorious Resurrection of our Lord Jesus Christ. This is a weekend you surely do not want to miss.
Gethsemane: The Pressing Place

If given to Jesus, the most painful and pressed places in our life can be used to bring something of such beauty – such as it was with Jesus in the garden.

Without the events of Gethsemane, Resurrection Sunday would not have taken place, for this was the place where Jesus said "Yes" to being crushed for the Father's purposes. We are going to the Garden of Gethsemane and we invite you to come experience Good Friday like you never have before.

The production is Thursday, March 29 at 7p and Good Friday, March 30 at 6p & 8p. Childcare birth-5th grade is available. 

Where this evening ends, Sunday morning will continue, as we celebrate the glorious Resurrection of our Lord Jesus Christ. This is a weekend you surely do not want to miss.

February 19, 2018

03/29/2018 7:00 pm

03/29/2018 9:00 pm

90

minutes

If given to Jesus, the most painful and pressed places in our life can be used to bring something of such beauty – such as it was with Jesus in the garden. Without the events of Gethsemane, Resurrection Sunday would not have taken place, for this was the place where Jesus said "Yes" to being crushed for the Father's purposes. We are going to the Garden of Gethsemane and we invite you to come experience Good Friday like you never have before. The production is Thursday, March 29 at 7p and Good Friday, March 30 at 6p & 8p. Childcare birth-5th grade is available.  Where this evening ends, Sunday morning will continue, as we celebrate the glorious Resurrection of our Lord Jesus Christ. This is a weekend you surely do not want to miss.

Grace Chapel

03/30/2018 6:00 pm

03/30/2018 10:00 pm

90

minutes

If given to Jesus, the most painful and pressed places in our life can be used to bring something of such beauty – such as it was with Jesus in the garden. Without the events of Gethsemane, Resurrection Sunday would not have taken place, for this was the place where Jesus said "Yes" to being crushed for the Father's purposes. We are going to the Garden of Gethsemane and we invite you to come experience Good Friday like you never have before. The production is Thursday, March 29 at 7p and Good Friday, March 30 at 6p & 8p. Childcare birth-5th grade is available.  Where this evening ends, Sunday morning will continue, as we celebrate the glorious Resurrection of our Lord Jesus Christ. This is a weekend you surely do not want to miss.

Grace Chapel