Promise Keepers Road Trip
Thursday, July 30 - Saturday, August 1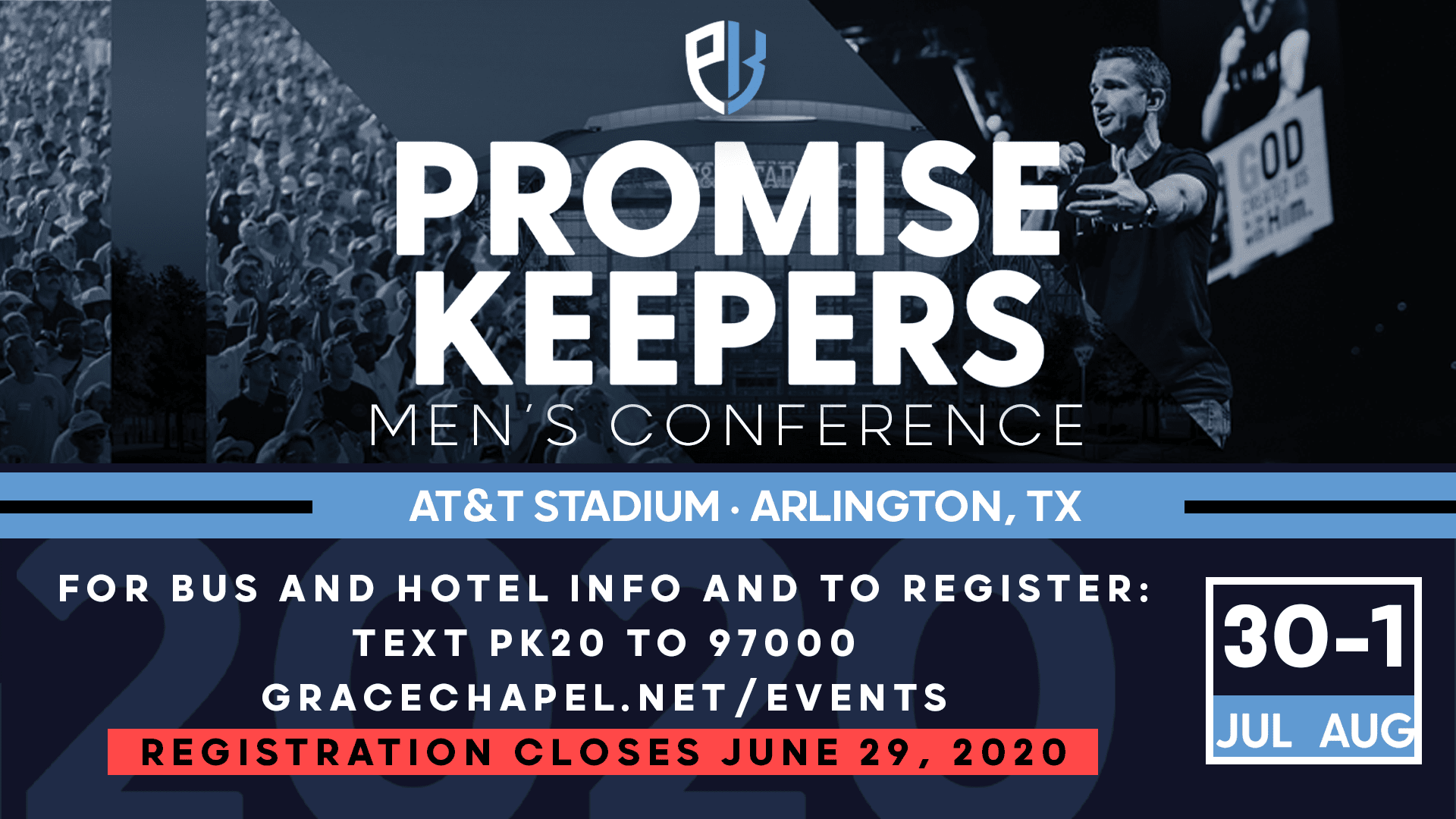 Promise Keepers is the largest movement of men in the history of the Church. Now it's calling on a new generation of men to rise up as warriors for Christ. Join 80,000+ guys (age 10 and up) on July 31-August 1, 2020 at the AT&T Stadium in Arlington, Texas (home of the Dallas Cowboys) for a weekend that will change your life.
Here's what you can expect:
Unforgettable worship as you raise the stadium's roof and shake the foundation.
Anointed preaching from God's Word.
Tools to help you gain victory in all areas of your life.
Inspiration to live your destiny as a man of God.
The opportunity to be part of a movement of men who will change our nation for Christ.
Grace Chapel will be taking a group down for the event and will leave on Thursday, July 30. If you'd like to join us and be a part of this historic event, you can click here for bus, hotel, cost information, and to register!
Promise Keepers Road Trip

Promise Keepers is the largest movement of men in the history of the Church. Now it's calling on a new generation of men to rise up as warriors for Christ. Join 80,000+ guys (age 10 and up) on July 31-August 1, 2020 at the AT&T Stadium in Arlington, Texas (home of the Dallas Cowboys) for a weekend that will change your life. Here's what you can expect:

Unforgettable worship as you raise the stadium's roof and shake the foundation.
Anointed preaching from God's Word.
Tools to help you gain victory in all areas of your life.
Inspiration to live your destiny as a man of God.
The opportunity to be part of a movement of men who will change our nation for Christ.

Grace Chapel will be taking a group down for the event and will leave on Thursday, July 30. If you'd like to join us and be a part of this historic event, you can click here for bus, hotel, cost information, and to register!

February 26, 2020