The Foolproof Valentines (Dinner + Comedy)
Friday, February 14 // 7pm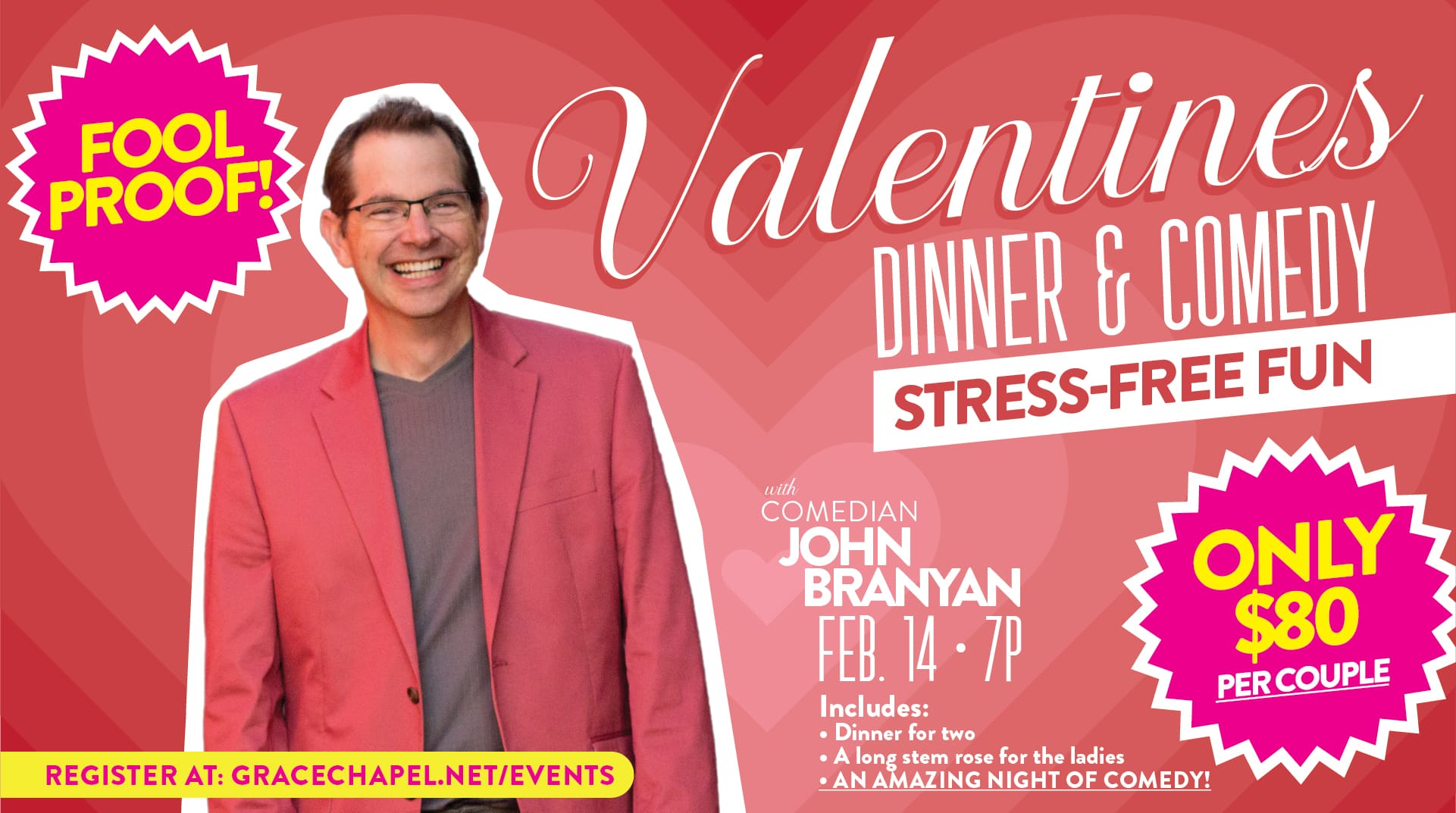 Guys, let's face it, Valentine's Day can be stressful – getting reservations, picking out the perfect gift, and trying to remember, does she like roses or lilies? You and your special lady are invited to a stress-free and absolutely fun Valentine's Dinner with Comedian John Branyan.
For only $80 (or $40 per person), you will receive dinner for two, a long stem rose for the ladies, and best of all, an amazing night of comedy with John Branyan!
Registration for this event is now closed.
Doesn't this menu for the night look yummy? 😋
Mixed Greens Salad w/ Strawberries, Feta, Nuts, and Raspberry Vinaigrette
Pork Tenderloin w/ Assorted Sauces (Sweet Chili BBQ, Carolina Mustard, Cherry Sauce)
Lemon Chicken Breast w/ Artichokes and Lemon-Basil Sauce
Escalloped Potatoes w/ Gruyere Cheese
Whole Green Beans
Red Velvet Cake
Fudge Cake
The Foolproof Valentines (Dinner + Comedy)

Guys, let's face it, Valentine's Day can be stressful – getting reservations, picking out the perfect gift, and trying to remember, does she like roses or lilies? You and your special lady are invited to a stress-free and absolutely fun Valentine's Dinner with Comedian John Branyan.

For only $80 (or $40 per person), you will receive dinner for two, a long stem rose for the ladies, and best of all, an amazing night of comedy with John Branyan!

Registration for this event is now closed. Doesn't this menu for the night look yummy? 😋 Mixed Greens Salad w/ Strawberries, Feta, Nuts, and Raspberry Vinaigrette Pork Tenderloin w/ Assorted Sauces (Sweet Chili BBQ, Carolina Mustard, Cherry Sauce) Lemon Chicken Breast w/ Artichokes and Lemon-Basil Sauce Escalloped Potatoes w/ Gruyere Cheese Whole Green Beans Red Velvet Cake Fudge Cake

January 15, 2020