Women's Spring Luncheon // Great Is Thy Faithfulness
Saturday, May 11 // 11:00a-1:30p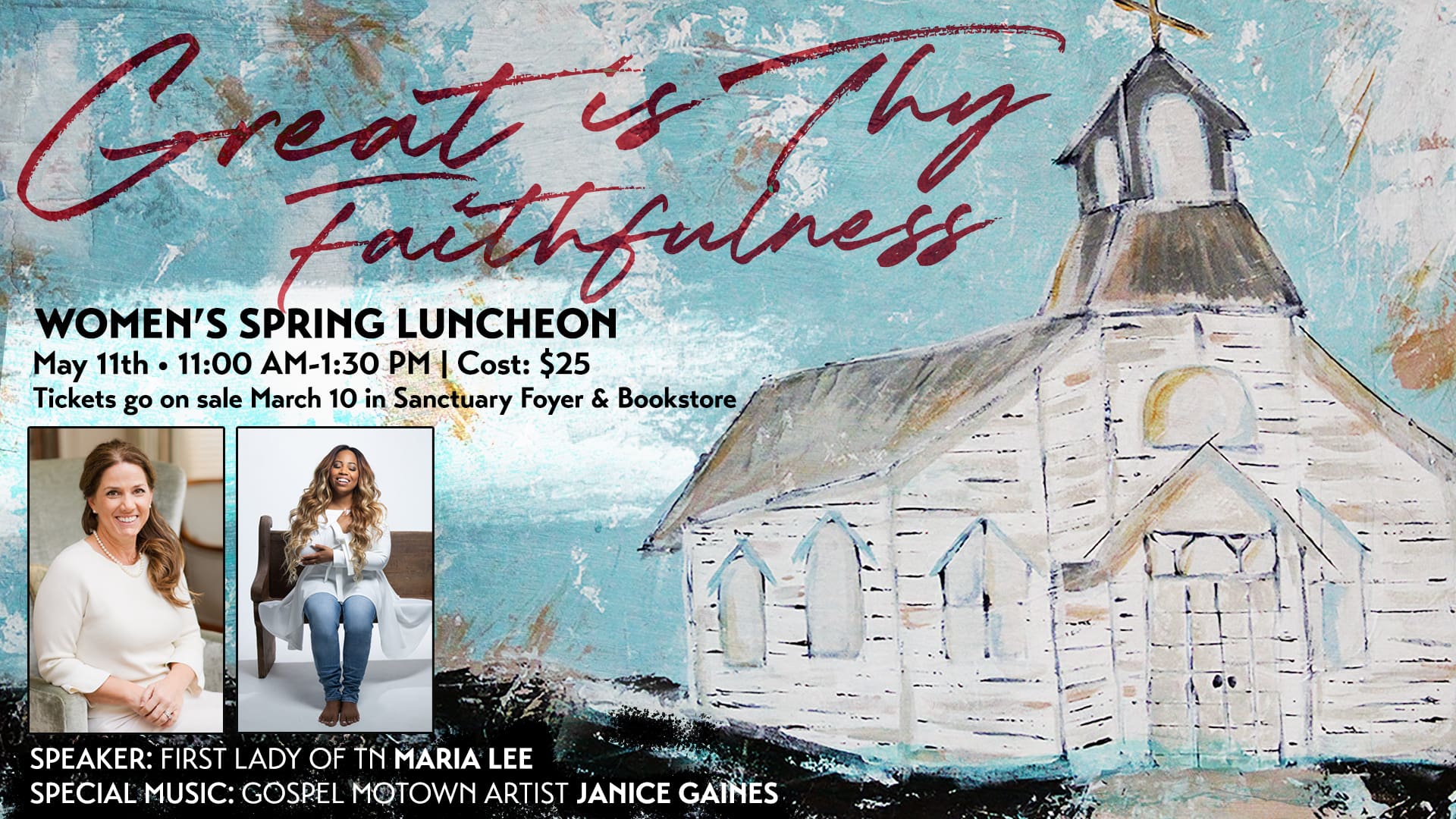 Ladies, have you been trying to think of a way to bless your mom on Mother's Day or a unique way to invite a friend to church who normally wouldn't come? The 2019 Women's Spring Luncheon is your answer! This luncheon always sells out quickly and this year will be no different, especially because it features our First Lady of TN, Maria Lee, and Gospel Recording Artist, Janice Gaines.
Date: May 11th
Time: 11a-1:30p
Location: The Chapel
Cost: $25 – tickets go on sale Sunday, March 10th in the sanctuary foyer and bookstore
Menu: Strawberry Field Salad, Chicken Salad, Pimento Cheese, Cranberry Jello Salad, Muffins, Fruit Tea and Coffee
For more information contact donna@gracechapel.net.
There is no childcare for the luncheon. 
Women's Spring Luncheon // Great Is Thy Faithfulness

Ladies, have you been trying to think of a way to bless your mom on Mother's Day or a unique way to invite a friend to church who normally wouldn't come? The 2019 Women's Spring Luncheon is your answer! This luncheon always sells out quickly and this year will be no different, especially because it features our First Lady of TN, Maria Lee, and Gospel Recording Artist, Janice Gaines. Date: May 11th Time: 11a-1:30p Location: The Chapel Cost: $25 - tickets go on sale Sunday, March 10th in the sanctuary foyer and bookstore Menu: Strawberry Field Salad, Chicken Salad, Pimento Cheese, Cranberry Jello Salad, Muffins, Fruit Tea and Coffee For more information contact donna@gracechapel.net. There is no childcare for the luncheon. 

March 7, 2019

2019-05-11 11:00:00

2019-05-11 13:30:00

90

minutes

The Chapel @ Grace Chapel